SIXT Rent-a-Car Sponsoring German Team in the Official SpaceX Hyperloop Pod Competition this Weekend
SIXT Rent-a-Car Sponsoring German Team in the Official SpaceX Hyperloop Pod Competition this Weekend
Known globally as an innovator in transportation—offering of affordable luxury, unparalleled consumer flexibility, and the Signature Sixt experience—Sixt invests in the future of transport by supporting the Hawthorne, CA-based competition held August 25-27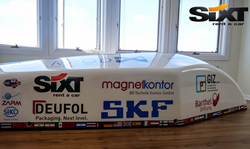 Hyperpod X Sponored by Sixt
"For 100 years, Sixt has pushed the envelope and been on the cutting edge of personal transportation around the globe. Now, we're bringing that same innovative spirit to the U.S. market."
Ft. Lauderdale, FL (PRWEB)August 23, 2017
Sixt Rent-a-Car, the world's premiere affordable luxury car rental service with more than 2,000 locations in over 100 countries, is renowned around the world for its one-of-a-kind "Signature Sixt experience," meeting the needs of today's tech-savvy consumer. As the company continues to expand its presence in the United States with the recent announcement of two, brand-new locations at the San Diego and San Antonio airports, Sixt is also making its presence known in an upcoming competition highlighting the future of transportation.
On August 25-27, Elon Musk's company—SpaceX—is hosting the Official SpaceX Hyperloop Pod Competition, and Sixt Rent-a-Car is proud to announce its role as a sponsor of the "HyperpodX Team" Oldenburg Emden from Germany.
"For 100 years, Sixt has pushed the envelope and been on the cutting edge of personal transportation around the globe. Now, we're bringing that same innovative spirit to the U.S. market. That's why we were thrilled at the opportunity to be able to sponsor this team of amazing young people from around the world in this totally new kind of competition. We wish HyperpodX Team Oldenburg Emden the very best of luck this month, and look forward to congratulating them on their success," said Daniel Florence, co-President of Sixt USA.
"Design is a key element to our success at Sixt, it's something we care about deeply and passionately. A visit to one of our locations, or a drive in one of the luxury cars, always reinforces this principle. Team Oldenburg Emden is going to be successful largely because they've put the same passion and thought into designing their HyperpodX. We're thrilled to be able to bolster their effort, and delighted that the Sixt brand is associated with such an incredible venture," said Sebastian Birkel, co-President of Sixt USA.
The team consists of 23 students from 10 different countries who are enrolled at the University of Oldenburg and the University of Applied Sciences Emden-Leer in PhD, master's, and bachelor's programs, including physics, engineering, and computer science. Along with the supervision of two professors, Prof. Dr. Neu and Prof. Dr. Schüning, the international background of the team and the application-oriented research of both universities encourages team innovation.
The team's website, with details on their Pod, can be seen here: http://en.hyperpodx.com/
The SpaceX HyperPod website can be seen here: http://www.spacex.com/hyperloop
Sixt has been in the US market since 2011, and is headquartered in Ft. Lauderdale, FL. The company has grown to over 750 employees in the US, and more than 50 rental locations in total in California, Florida, Georgia, Indiana, Washington, Texas, Connecticut, New Jersey, Minnesota, Pennsylvania, Nevada, Arizona, and Massachusetts. It is the 5th largest car rental company in the United States.
About Sixt:
Sixt SE has its registered headquarters in Pullach near Munich and is a leading international provider of high-quality mobility services for business and corporate customers as well as private travelers. With representations in over 100 countries worldwide Sixt is continually expanding its presence. The Company's strengths lie in the high proportion of premium cars in the vehicle fleet, its employees' consistent service orientation and a good price-performance ratio. Taken together these strengths have given the Company an excellent market position. Sixt was founded in 1912 and maintains alliances with renowned brands in the hotel industry, well-known airlines and numerous prominent service providers in the tourism sector. The Sixt Group generates revenues of EUR 2.2 billion (2015). http://about.sixt.com/