Sixt Rent-a-Car Opens Expanded, Innovative Miami Airport Space to Keep Pace with Surging Demand
Sixt Rent-a-Car Opens Expanded, Innovative Miami Airport Space to Keep Pace with Surging Demand
Six years ago, Sixt opened its first U.S. location at the Miami airport with an initial fleet of 500 rental vehicles—today, Sixt MIA has grown to more than 2,500 largely luxury-class vehicles and serves as one of the company's flagship locations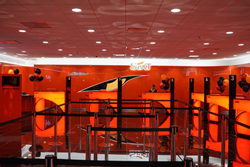 Sixt New Miami Space
"Miami continues to be a hugely successful market for us. We've worked extremely hard to be the best in the area, offering travelers and local customers alike our Signature Sixt Experience…"
Ft. Lauderdale, FL (PRWEB)October 04, 2017
Sixt Rent-a-Car, the world's premiere affordable luxury car rental service with more than 2,000 locations in over 100 countries, is renowned around the world for its one-of-a-kind "Signature Sixt Experience", meeting the unique needs of each customer with first-class service. As the company continues to expand in the United States—with the recent announcement of two, brand-new locations at the San Diego and San Antonio airports—Sixt is also focused on upgrading and improving existing locations whenever possible.
In Miami, Sixt's first U.S. location and a key travel and leisure market, the company is launching a newly-expanded space that will enable it to keep up with surging demand. The key feature of the new location is an innovative counter space design that will dramatically streamline counter-to-car time for travelers flying into the airport.
"Miami continues to be a hugely successful market for us. We've worked extremely hard to be the best in the area, offering travelers and local customers alike our Signature Sixt Experience, including luxury cars, first-class customer service, and competitive pricing. We've been grateful to see our sweat equity pay off as business continues to grow year after year," said Daniel Florence, co-President of Sixt USA.
"Today, we're launching a new space at the airport with exciting new innovations. Our new location is about four times what it was before. We've expanded to ten customer service counters, including a special Sixt Info-Counter for customers who want to ask questions before they get into line. We're also introducing a new TV monitor system directing customers to their counter, and have included careful details such as a spacious area to rapid charge electronic devices, a complimentary beverage and snack selection, and music that makes you want to dance. We can't wait to roll out the orange carpet for everyone coming to Miami International Airport."
Sixt's story in Miami is one of growth and success, year after year. One of the very first Sixt locations in the U.S., MIA opened in 2011. Sixt had acquired Excellence Rent-a-Car's facilities and started with a local fleet of nearly 500 vehicles. By 2012, Sixt Miami had tripled its revenue and increased counter space to accommodate surging demand. A year after that, Sixt had almost 1,300 rental vehicles in the area. By 2015, Sixt needed to expand yet again, purchasing space from All Day Rent-A-Car, increasing counter space, and growing its revenue dramatically once again. Today, Sixt has more than 2,500 vehicles available and continues to grow.
Sixt is now the 5th largest car rental company in the United States. The company has grown to over 750 employees, and serves more than 50 rental locations located in California, Florida, Georgia, Indiana, Washington, Texas, Connecticut, New Jersey, Minnesota, Pennsylvania, Nevada, Arizona, and Massachusetts.
About Sixt:
Sixt SE has its registered headquarters in Pullach near Munich and is a leading international provider of high-quality mobility services for business and corporate customers as well as private travelers. With representations in over 100 countries worldwide Sixt is continually expanding its presence. The Company's strengths lie in the high proportion of premium cars in the vehicle fleet, its employees' consistent service orientation and a good price-performance ratio. Taken together these strengths have given Company an excellent market position. Sixt was founded in 1912 and maintains alliances with renowned brands in the hotel industry, well-known airlines and numerous prominent service providers in the tourism sector. The Sixt Group generates revenues of EUR 2.4 billion (2016). http://about.sixt.com/